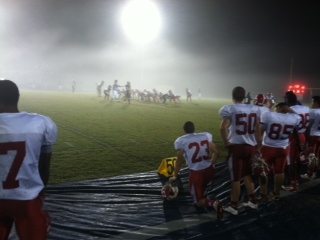 I have come to realize there is not a bench in the game of life. I am on the field of play, but I can choose not to participate. When I do this I begin to sit on the field. I am now in the way of those who are in the game! I do have huddles so I can get the plays through prayer. But I do not spend all my time there or a delay of game penalty will be called!
 Here's what you need to do to get in the game:
1. Surrender your life to Jesus: He will show you the WAY the game is played. He will tell you the TRUTH and He has given you the TRUTH (Bible) as the playbook. He liberates you from your sin to give you a new LIFE. (John 14:6)
   How do you surrender?
Admit you have sinned, I John 1:9 sates that we confess our sins Jesus is faithful to forgive us of all our sins.
 Ask Jesus to lead and direct your life, Romans 10: 9 states  that if you confess with your mouth Jesus as Lord, and believe in your heart that God raised Him from the dead, you will be saved or rescued from the guilty plea because your sin.
Repent or decide not to go your own way, but decide to follow Jesus in His way. He states in John 10:10 that He came to give us abundant life
Daily Thank Jesus for loving you, saving you, delivering you and accepting you. Thank Jesus by the way you live. (Colossians 3:17)                 
2. Stand up and look for ways to participate in life. There are a lot of needs in this world just open your eyes and follow the Holy Spirit's lead. (John 14:26)
3. Start with your family and friends. Be a part of their lives. Be a team player. It's not all about what you want, you feel or you think. It's about what God thinks, God feels and God wants. Let Jesus transform you! (Romans 12:1-2)
NOW YOU ARE IN THE GAME! Watch Jesus make big plays in you and through you.