Partners in Ministry,
A BIG thank you to everyone who participated in the 2014 SMO Golf Tournament. We had 127 golfers and a whole team of volunteers who helped to make it a great day. The tournament was a win-win. It was a great time of fellowship and the funds raised will continue outreach to impact youth for Christ in the sports community.
HIGHLIGHTS:
A special thanks to:
Chick-fil-A of North Hills and Wake Forest, owned and operated by Rally DeLeon and Rob Reasoner, for an awesome breakfast
Patrick Cowden, head chef for Tobacco Road Sports Café, for the amazing feast for lunch

I appreciate the opportunity to partner with these ministries:
Will Joslin, Masters Fellowship
FCA – Al Byrd, NC State Football Chaplain and Daniel Evans, NCSU Campus Director
Bob Winstead, Founder of Carolina Elite Football
No winners this year of the Dodge Challenger, but congratulations to Josh Lendach, age 12, for sinking two hole-in-ones at the putting challenge!
The silent auction was a hit.
Congratulations to the winning team who also won the 2013 SMO Golf Tournament! Who is going to defeat them next year?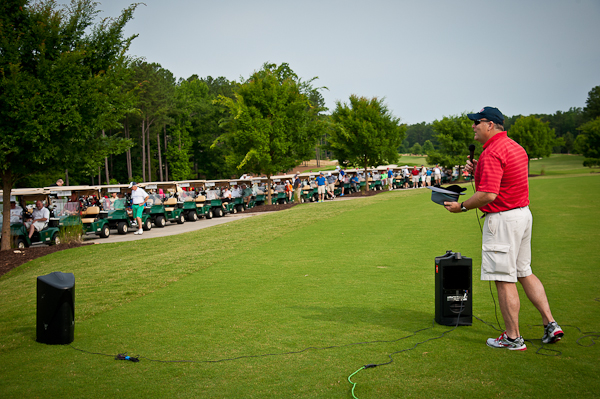 GOLF TOURNEY PHOTOS: 
See gallery below –
MARK YOUR CALENDARS:
The 2015 SMO Golf Tourney will be  Monday, June 8, 2015 at Hasentree.
Sports Missions Outreach is grateful for you investing your time and money. Since 2010, we have been able to impact over 30 schools and we have seen God transform over 500 lives! I appreciate all of you who are champions in this mission!  You have invested your time, resources, and prayers and we are seeing Jesus make the game changing plays in athletes and coaches. To God be the glory!
Pat Teague
Sports Missions Outreach Director
MINISTRY TOOLS/WAYS TO GET INVOLVED:
Follow SMO on Twitter!    

Sports Missions Outreach is a community supported ministry commissioned by and accountable to Crossroads Fellowship Church (
crossroads.org
).
GOLF TOURNEY PHOTOS: